Here I am to share some midfield partnerships. From my point of view these are some magic moments that can not be erased. These are not numberings. We are no one to judge them.We can only feel the magic.
AND HERE THEY COME-
ZINEDINE ZIDANE & LUIS FIGO (REAL MADRID)
The most controversial transfer of all time.Portugese legend Luis Figo joining Real Madrid from bitter rivals Barcelona. The all time greatest French footballer Zidane joined him in next season. The fearsome partnership by the two for five seasons won Real Madrid a lot. They won 2 La Liga, 2 Copa Del Rey. And also Uefa Champions league and Uefa Super Cup in 2002 and Intercontinental Cup.
So HALA MADRID !!!!!!
XAVI HERNANDES & ANDRES INIESTA(BARCELONA)
There is nothing much to explain about these two. We all know they are simply great together. Without them Neither Barcelona nor Spain could have achieved achieved so much.Their success can not be measured by trophy counts.
THE GREATEST OF THEIR ERA
This French quartet—composed of playmaker Michel Platini, workhorse Jean Tigana, silky wide man Alain Giresse and tackler Luis Fernandez-dominated the first half of 80's.Though they were unlucky to loose to West Germany in 1982 WORLD CUP.They made it up by winning 1984 EURO and established FRANCE as a footballing power house.
NOBBIE STILES & BOBBY CHARLTON(ENGLAND)
A creator-destroyer pair. Stiles played the destroyer role to Charlton's magestic skill and passing expertise. These two provided the base for wingers Martin Peters and Alan Ball to play as they wanted to. And provided a midfield spine to England's World Cup-winning side.
JOHAN NEESKENS & JOHAN CRUYFF(NETHERLANDS)
This stretches the definition of "midfield partnership". As Johan Cruyff played as a false nine (or something close to it) in the Dutch National team. On the other hand Neeskens played as a workhorse in a box-to-box role. This is not dissimilar to the role played by Ji-Sung Park today. Neeskens ,the unsung hero, played a huge role in Cruijff's eye-catching performances for both club and country.
GIANNI RIVERA & SANDRO MAZZOLA(ITALY)
These two Italians were among the most prolific midfield pairs ever seen. They were only ever seen together sparingly. But when they were, they combined to great effect. Those two created a great conundrum for Italy coach Feruccio Valcareggi. In the 70's  to fit both Rivera and Mazzola in the same Italian side.
These two were both playmakers.And had won two European Cups apiece before 1970. Therefore, they needed to be included in the Italy 1970 squad. To fit these contrasting talents together, Valcareggi devised a Staffeta, or relay. Each would be given 45 minutes to control the game. And then the other would be sent on. Using this system, Italy managed to reach the final, where they lost to the great 70 Brazil side. That's what you a call talent.
MAKELELE & ZIDANE (REAL MADRID)
Again the two Galacticos. The two most talented and prolific midfielders of their era came together and made us the part of magic. Real Madrid chairman Florentino Perez bought superstars like Zidane, Figo and Steve McManaman, and expected them to gel together and win many trophies. This midfield included Makelele holding and allowing Zidane, and this worked better than Real Madrid expected .
ROY KEANE & PAUL SCHOLES(MANCHESTER UNITED)
This was the when Manchester was red only.They had none to share their fame and popularity with. The perfect partnership. Keane provided huge midfield tenacity in the defensive midfield positions. While  Scholes provided the midfield creativity with vision and passing. This midfield was the pillar of Alex Ferguson's late 90's successes at Manchester United. With its glory hour coming in the 98-99 treble seasons.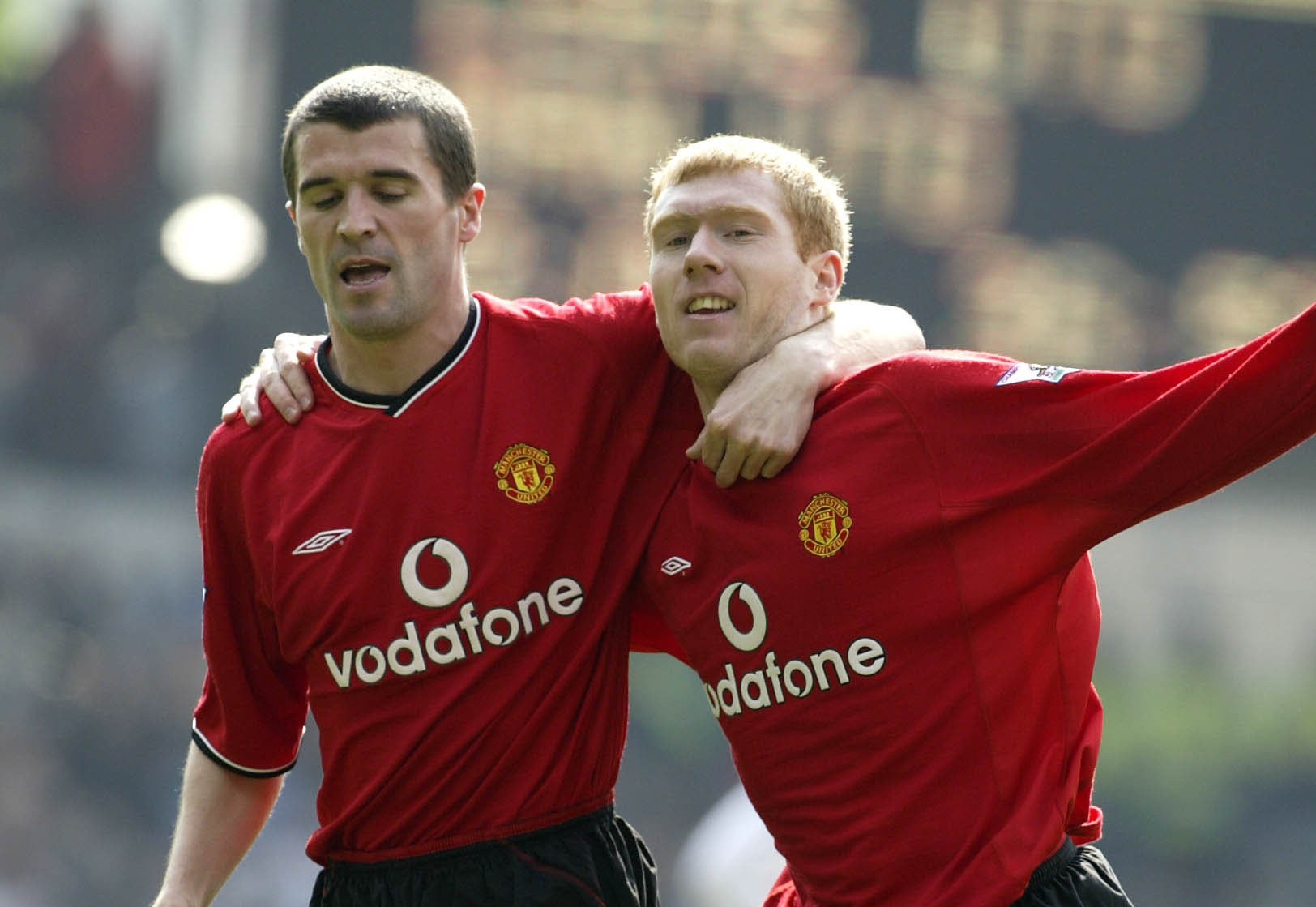 GILBERTO SILVA & PATRIC VIERA(ARSENAL)
Here comes the INVINCIBLES. Gilberto Silva, the silent wall, an awkwardly talented defensive midfielder.Providing an excellent foil to Patrick Vieira.A Roy of the Rovers-style midfielder. He worked hard while adding a touch and a supreme passing ability to his all-around game. These two provided the base for Arsenal's Invincible season.
LUCA MODRIC & TONY KROOS(REAL MADRID)
Yes. They have lot to go through and they also have a lot of time to do so.One can't ignore them as they have already added two CHAMPIONS LEAGUE in their trophy cabinet. Best of luck MAESTROES.